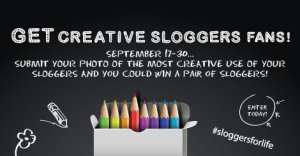 Today, buy viagra healing we launched our monthly FREE Sloggers give-a-way contest.  We want you to post up an image of your most creative use of your Sloggers to our Contest page via Facebook and we will vote on the best one between now and September 30!  Woo hoo!
The contest is limited to U.S. and Canadian residents at this moment in time.  Take a walk on the wild side and get creative people!  You get a free pair of shoes or boots of your choice from our online store just for your creativity!
Our contest can be located here at this WooBox Contest link.
Have fun!!!
#sloggersforlife