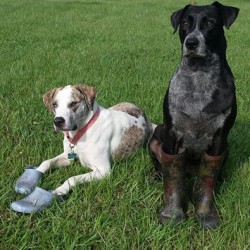 Congrats to Heather Shutt for winning our September photo contest!  Her response to my email to her is priceless!
"WOOT HOOOT YOU MADE MY FRIDAY!! the dogs all ran into the computer room when they heard me cheering just now.  I cant wait to walk in mud puddles again with no leaks! Woot hoot!! Still going to be buying a pair of shoes come spring! have I told you lately I love Slogger shoes…YUP I do!"
LOVE your enthusiasm about our shoes and boots!  Be sure to take a selfie and post onto our Facebook page!
#sloggersforlife