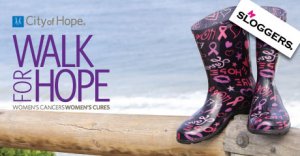 Today, cialis usa recipe Sloggers® U.S.A. announced their involvement with City of Hope, store a leading research and treatment center for cancer, online diabetes, and other life-threatening diseases, by sponsoring the institution's 5k walk, Walk for Hope, which supports women's cancers and cures. Walk for Hope is City of Hope's largest event with over 10,000 walkers in attendance annually. This year's 18th annual 5k takes place on November 2 at City of Hope's campus in Duarte, CA. As one of the sponsors of the event, Sloggers will assist in raising money to support the Women's Cancer Program and will celebrate cancer survivors.
Additionally, Sloggers announced the launch of their new Breast Cancer Awareness HOPE Print in their line of shoes and boots. Starting on October 1, 2014, Sloggers started selling their new exclusive print online to help raise awareness of Breast Cancer. The new Sloggers breast cancer, design HOPE print is edgy and fun.
"We decided to design an exclusive print to help support breast cancer research and raise awareness—and we did just that," said Sloggers President, David Hoyt. "We wanted to make an impact to help defeat breast cancer by being a part of something grander than just sales."
"It feels really good to partner with the City of Hope in helping to defeat women's cancers," said Lyndsay Johnson, Director of Marketing. "Our new prints are super fun and help support such a wonderful cause, we couldn't help but get involved. After touring City of Hope and meeting with their incredible doctors and staff, I was inspired to help in any way I could. Our new campaign: 'We're Stronger Together' says it all. And we are proud to stand together to help."
In addition to Slogger's philanthropic mission, the company is proud to stamp their products with a "Made in the USA" tag as product lines are manufactured in Los Angeles, CA.
This year and for 2015, Sloggers plans on launching up to 10 new, print designs for their shoes and boots, which will break them into new markets: pet/vet, horse/barn, chef, healthcare, and fashion as well as this philanthropic line to support Breast Cancer Awareness. Over the years, Sloggers has traditionally been a Lawn and Garden Outfitter. Finding that customers are providing an enormous amount of feedback in relation to not necessarily being a gardener, but purchasing anyways, has pushed Sloggers into marketing, function, design, and appealing to a larger crowd with the same product.
Be sure to keep your eye on the growth of Sloggers and their philanthropic efforts.
About Sloggers®:
Sloggers® started in 1948 as Coffey-Hoyt Products. The company pioneered the field of plastic, footwear protection, inventing and manufacturing the first, clear plastic overshoe, called Drizzle Boots. Drizzle Boots became very popular selling millions of pairs over the years. Even Doris Day sported them back in the 1951 film "Storm Warning."
Continuing a 66 year commitment to quality and the American worker, Sloggers remains at the same Los Angeles, California location. Sloggers is proud to continue the tradition of Made in America. The privately held company is under second-generation management and is the exclusive maker of the Sloggers brand of products.
For more information on Sloggers, please visit: www.sloggers.com.
About Bound-by Marketing:
Owner, Lyndsay Johnson re-branded her boutique agency, Metamorphosis Creations, in 2011 to what is now called Bound-by Marketing. Johnson brings a plethora of industry experience with her from: hospitality/restaurant, automotive/high performance, real estate, medical device, music, non-profit, civil engineering/city, healthcare, and consumer product goods. She has surrounded herself with over fifty designers, photographers, videographers, programmers, and developers across the nation. Beyond her infatuation with marketing, Johnson is a classically trained opera singer who additionally has a unique passion for hot rods.
For more information on Bound-by Marketing, please visit: www.boundbymarketing.com.
About City of Hope:
City of Hope is a leading research, treatment and education center for cancer, diabetes and other life-threatening diseases. For over 100 years, City of Hope has helped patients and their families manage and conquer challenging diseases through groundbreaking research and treatment protocols that advance care throughout the nation. City of Hope's mission is to shorten the time from an initial research idea to new treatments to quickly bring cures to patients. They are ranked as one of "America's Best Hospitals" in cancer by U.S. News & World Report and their research is making a difference: numerous breakthrough cancer drugs including Herceptin, which is used to treat breast cancer, are based on technology pioneered by City of Hope and are saving lives worldwide. For more information, visit www.cityofhope.org or follow City of Hope on Facebook, Twitter, YouTube, or Flickr.
# # #